Nangia Healthcare Managed Services (NHMS) is a leading Indian Medical/Healthcare Staffing firm offering a complete suite of advisory and consulting solutions to healthcare, hospitals, pharmaceuticals, diagnostic and medical technology firms and related industries globally.
NHMS provides a wide gamut of services to private and public sector clients including Financial advisory, IT and digital advisory, risk advisory, cyber security (CERT certified). It also provides solutions related to managed health care services, outsourced services, feasibility and DPR studies, operational efficiency enhancement projects and last mile access to healthcare services through IT enabled telemedicine offerings.
Get in touch with Experts
NHMS recruits skilled and certified personnel globally through our Medical & Nursing Institutes for various positions such as Registered Nurses (RNs), Licensed Practical Nurse (LPNs), Certified Nursing Assistants (CNAs), Medical Technologists (MTs), Qualified Medication Administration Personnels (QMAPs), Physical & Occupational Therapists,Surgical First Assistants, Certified Surgical Technicians, Caregivers,Paramedic Staff and more from our own medical and nursing institutes'network. These professionals are available almost instantly to meet overseas healthcare staffing requirements and are trained as per global standards, international boards and bodies encompassing most needful licenses for seamless recruitment. Nangia Group is associated with partner companies – Sarvodaya Healthcare Group, Housepital and Medhavi Skillversity based in India and spanning centers across India. These firms gives NHMS access to a vast database and network of skilled and qualified medical professionals. We have successfully recruited thousands of healthcare staff and professionals within India and overseas for over a decade across departments in healthcare institutions & hospitals including General medicine, Radiology, Nephrology, Cardiology, Gynecology,Gastroenterology, General Surgery, Hematology, Neonatal Unit, Neurology, Nutrition & Dietetics, Oncology, Ophthalmology, Orthopedics, Renal Unit, Urology etc. NHMS is a reliable and government approved healthcare staffing and managed services company and hence, it boasts of prestigious clients in healthcare, medical & pharmaceutical industries spread across the globe.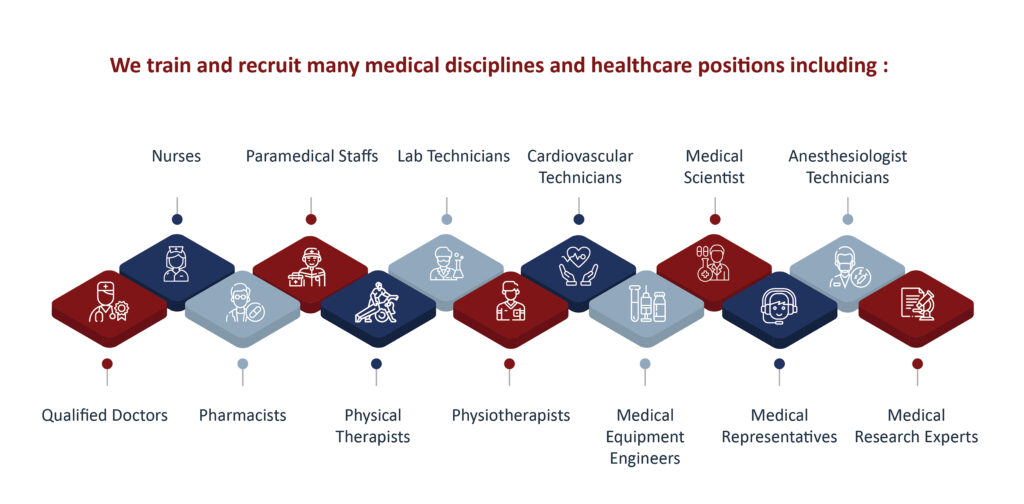 Our team comprises experts from a wide range of backgrounds and specialties, which confers upon us a distinct advantage in providing comprehensive healthcare managed services. Our proficiency in various areas such as healthcare finance, operations, compliance, and Digital technology empower us to add significant value to our projects, and our deliverables consistently surpass clients' expectations. Our substantial service and support during and after the candidate recruitment process is one of the key reasons for our unmatched success and existence in the healthcare recruiting sector
We are a leading provider of comprehensive healthcare staffing solutions care, residential and nursing homes, hospitals, medical facilities and establishments that need person-centered personnel. By providing staffing solutions that are cost-effective, Nangia Group understands your human resource needs and matches them with the varied pool of skilled and passionate talent.
Our healthcare training program is a comprehensive and personalized approach to equip healthcare professionals with the necessary skills and expertise to excel in their respective fields. From enrollment to deployment, we provide a holistic experience that includes hands-on training, new age skills development, and on-the-job support.
Sarvodaya Healthcare Group is our associate partner firm for health care projects, that has over 31+ years history of delivering healthcare excellence. It has various centers including State of Art clinics, Allied health sciences, center of Imaging and Nursing center of excellence in which they train and nurture health care professionals of different cadres including B.Sc nursing, ANM, GNM, Mid-wife, Paramedics and Lab. Technicians. The institute has successfully produced over 1000+ health care professionals and has placed in different countries to provide health care managed services/staffing requirements. Sarvodaya operates two large tertiary care hospitals with over 500+ bed capacity in the NCR region. Sarvodaya Hospital is equipped with the latest medical technologies and staffed by a team of over 300 highly qualified doctors and healthcare professionals. It has also been recognized for its commitment to quality and patient care. The hospital is accredited by the National Accreditation Board for Hospitals and Healthcare Providers (NABH) and has received several awards and accolades, including the Best Multi-specialty Hospital in NCR by the Times of India Healthcare Awards.
Housepital is our associated partner firm that provides home-based medical services to patients in need, founded in 2015 with a vision to improve the accessibility and affordability of healthcare services across world. The company provides range of medical services including nursing care, physiotherapy, medical equipment rental, lab tests, and doctor consultations. So far the company has provided health care services to over 50,000 patients. The company has been awarded with "Best Healthcare Start-up" award at the Startup India Rocks Summit in 2016, and the "Top 10 Healthcare Startups" award at the TiE Global Summit in 2017. Housepital offers a range of medical services including nursing care, physiotherapy, medical equipment rental, lab tests, and doctor consultations. The services are delivered by a team of qualified and experienced health- care professionals who are trained to provide personalized care to patients in the comfort of their homes.
Medhavi Skillversity is our partner training and skill development company that runs multiple locations across India. It focuses on 'up-skilling' doctors and other medical professionals with formal training in higher disciplines making their aptitude competent with required/ need-of-the-hour global medical standards.
Medhavi Skillversity offers reliable & technology based training resources to healthcare professionals and enables them to deliver the best in healthcare by consistently upgrading their skill set. Medhavi Skillversity is one stop digital solution to that addresses positions including Doctors, Nurses, Para Medical and Allied Healthcare Professionals.
At Nangia Group, we provide exceptional service to our healthcare clients through our large database across our associate partner firms and the NHMS operations. With our team of experienced professionals who possess specialized knowledge and credentials in the healthcare industry, we offer tailored solutions that meet the unique needs of each client. We use advanced technology and software solutions to streamline processes and improve efficiency, which translates into cost savings for our clients. Our commitment to regulatory compliance ensures that clients remain in compliance with all relevant laws and regulations. We are proud to offer exceptional customer service, with a focus on responsiveness, clear communication, and client satisfaction.